Coronavirus Symptoms
The Symptoms
For most people, coronavirus will be a mild illness.
Coronavirus mainly infects the lungs. The symptoms you need to look out for are a dry continuous cough, fever and/or anosmia - the loss of your normal sense of smell (and frequently sense of taste too. The cough can lead to breathing problems. You may have other symptoms ( like fatigue, diarrhoea or headaches) but fever, persistent cough and anosmia are the key ones.
What to do if you think you might have Coronavirus
If you have these symptoms then you must assume that you have coronavirus and stay at home (self-isolate) for 10 days. You must request a test if you display symptoms. You can apply for one either online or by calling 119.
The government is asking that you do not ring NHS 111 to report your symptoms unless you are worried or cannot cope at home. You should also not go to your GP, or A&E.
If your symptoms get worse or are no better after 7 days then seek medical advice through 111.nhs.uk or by calling 111 if you don't have access to the internet.
If you live alone and feel well again, you can go out after 10 days. Note - the cough and loss of smell can persist for several weeks in some people, despite the coronavirus infection having cleared. A persistent cough and/or anosmia alone do not mean you must self-isolate for more than 10 days.
What to do if someone in your household has symptoms
Once you have been in contact with someone who has this illness, it can take up to 14 days before you yourself have symptoms (if you're going to get them). It's likely that people living within a household will infect one another.
You and all household members must stay at home (self-isolate) for 14 days starting from the day the first person in your house became ill. Staying at home for 14 days will greatly reduce the overall amount of infection the household can pass on to others in the community. If the person who displayed symptoms has a negative test result you may all resume a 'normal' life.
That all sounds rather complicated so here is an easy-to-digest diagram from the BBC of what to do if someone in your household starts symptoms of Coronavirus.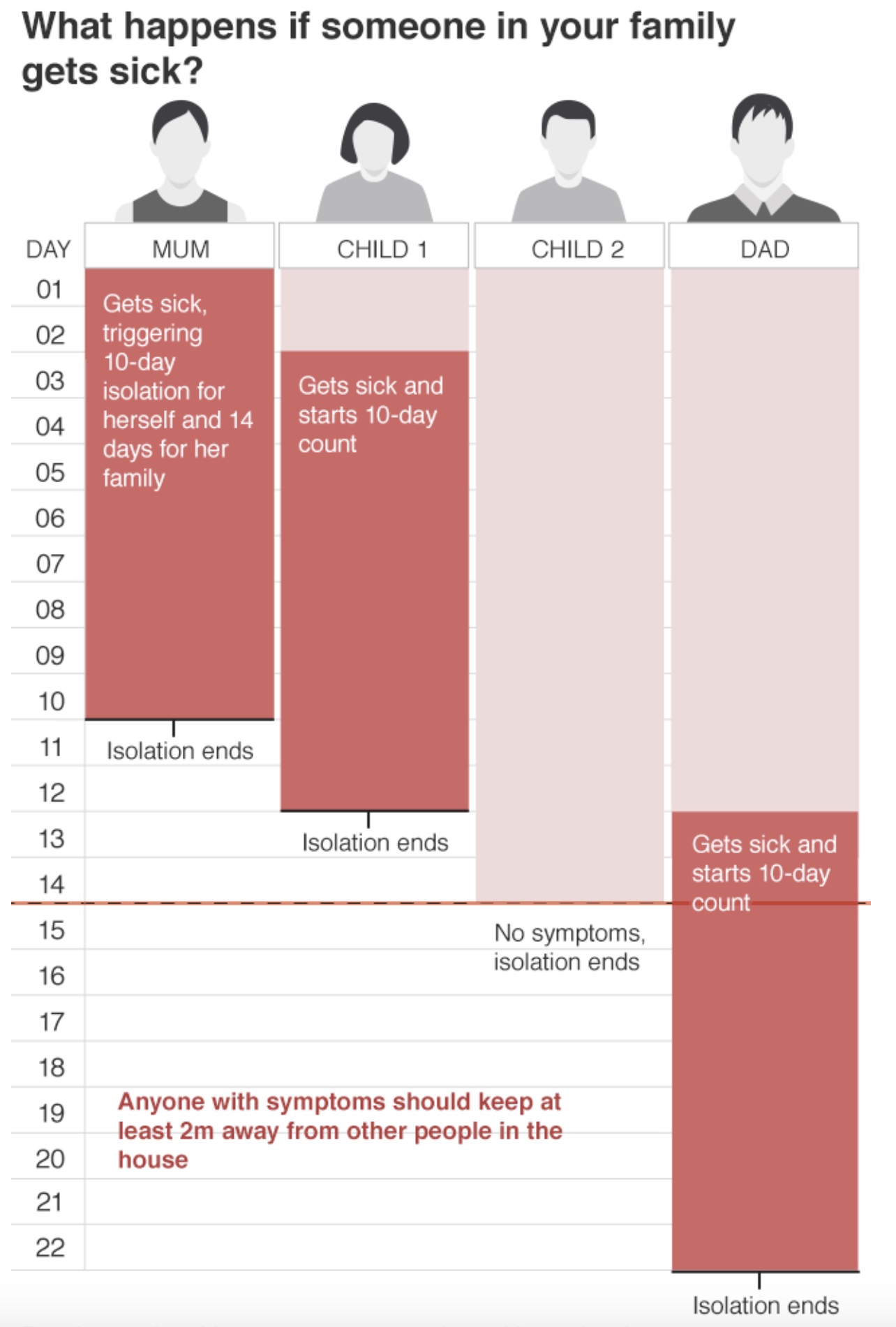 Self-Isolating
When you are self-isolating :
Do not go to work, school, or public areas, and do not use public transport or taxis.
If possible, do not go out even to buy food or other essentials, other than to exercise (and then only if you can stay at a safe distance from others).
If possible don't let anyone else come into the house while you are self-isolating.
If you require help with buying groceries, picking up medication, or walking a dog, you will need to ask friends or relatives. You can also order medication by phone or online. You may be able to order your shopping online, but if you do, then make sure you tell delivery drivers to leave items outside for collection. The delivery driver should not come into your home.
If you, or anyone else in the household, does start to have symptoms, then the 10 day rule applies to you/them from that point.
For more information look at the full government advice on self isolating